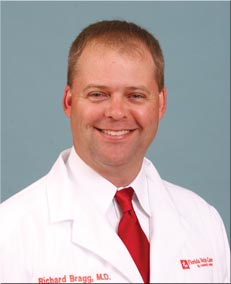 As a board certified MD who specializes in varicose veins and a former member of the American College of Phlebology, Dr. Bragg is a nationally recognized leader in the field of vein care. He has been practicing since 1997 and has performed over 75,000 treatments.
Originally from New Orleans, Dr. Bragg received his pre-medical bachelor's degree from Louisiana State University in 1988 and graduated from Louisiana State University Medical School in 1992. He completed his internship and residency at Florida Hospital's Family Practice residency program in Orlando, where he sub-specialized in vein and cosmetic medicine after receiving extensive training from some of the world's leading experts.
 As a faculty member of the National Procedures Institute, Dr. Bragg trains physicians from all over the world on the proper techniques of sclerotherapy, ambulatory phlebectomy, and endovenous laser treatment (EVLT®).
He remains board-certified in Family Practice medicine and serves as an adjunct faculty member for the Florida Hospital residency program. He volunteers several hours per year educating physicians, nurses, and lay people about venous disease and cosmetic medicine.
 "I learned many facts in medical school. One of great importance was how people's outward appearance impacts the way they feel on the inside. I began to ask how I could help people feel better about themselves. That question helped shape my career."
—Richard Bragg, M.D.