Do you have an earring hole in your earlobe that is stretched or even torn and are you located in Orlando (Dr. Phillips / Waterford Lakes) or Lake Mary? If so, Dr. Bragg has a simple procedure available to you to correct this. During the procedure, local anesthesia is used. After a period of 6 weeks, your earlobe is re-pierced by Dr Bragg in our office for perfect earring placement.  You may be surprised to learn how common our Orlando patients ask us about earlobe repair surgery.   Ear lobes are easily noticed and torn, stretched earlobes can make it difficult to hang jewelry.
See Earlobe Repair Results Before and After Below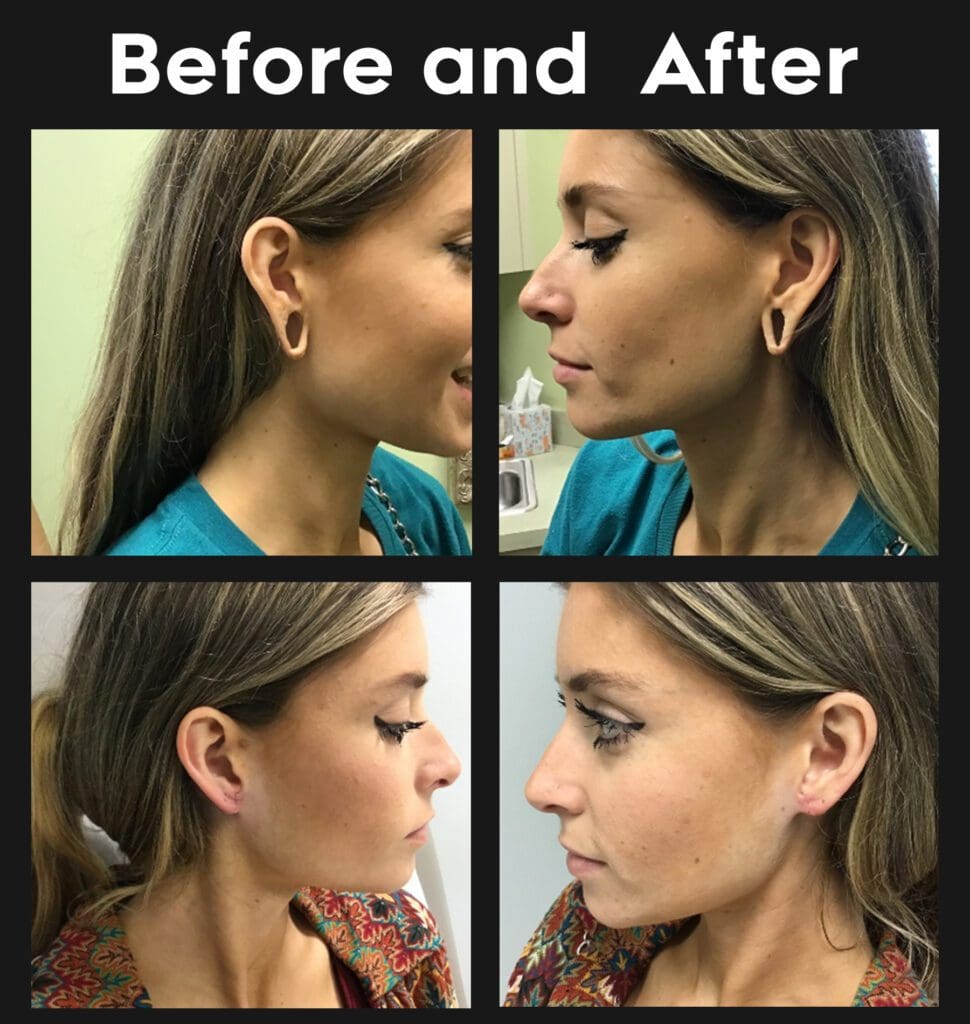 Ear lobe hole repair is often sought after by individuals who have gauged or stretched ear lobes or individuals whose earlobes have been torn or ripped. The procedure itself is minimally invasive and performed under local anesthesia.
If you have an earring hole that has been stretched or torn, you may be interested in this procedure to restore the former shape of your ear lobe. As with any surgical procedure, however, you need to know exactly what to expect, before and after, so you can be as fully as prepared as possible.
These are the common aspects that our procedure can fix:
•    Saggy ear lobes from heavy earrings (long term use)
•    Unsightly ear lobes caused by improper piercing or infection
•    Earlobe deformities
•    Traumatic earlobe injury
•    Expanded holes from intentional stretching/gauging and body modification
Earlobe repair procedures are growing in numbers for a variety of reasons. Whether you are looking to improve physical appearance and self-esteem due to deformity, sudden trauma or improper ear piercing techniques, we can help. We also help those that made decisions in their teenage years that are having a negative impact on acquiring a job or complying with employer standards.
Individuals who intend on entering the military for active service may be required to have their earlobes repaired. We've been told that no light can be visible through the earring hole. If you have stretched ear lobes, you may need to get them addressed.
Before Your Ear Lobe Hole Repair Surgery
Before your ear lobe repair surgery, you will be provided with a set of aftercare instructions that will help you understand exactly what will occur post-surgery. You will also be instructed on what you will need to do to prepare for the procedure.
Even though the procedure is simple, there are important steps that need to be taken to ensure its success. You may be asked to discontinue use of certain medications, discontinue use of tobacco products, and avoid any alcoholic beverage a certain number of days before the procedure. In addition, you'll need to be watchful of signs of illness or infection prior to the surgery. These could delay the procedure.
After Your Earlobe Repair Surgery
Local anesthesia is used during the earlobe hole repair, so while you may feel a bit of pressure, you shouldn't feel any pain during the procedure. Immediately following your Earlobe hole repair in Orlando, ointment will be applied to the incision area and a dressing may be applied as well. Your aftercare instructions will inform you of when to reapply the ointment and how to change the dressing, if necessary.
Pain generally isn't an issue with earlobe hole repair; patients usually only experience very mild discomfort. Because of that, prescription pain medication isn't necessary. Most discomfort can be dealt with using over-the-counter pain relievers. Antibiotics, however, are generally prescribed and taken as directed to prevent any infections from developing.
After the procedure is complete, you won't need to take any time off from work at all to recover. You can resume most normal activities immediately after. You'll be instructed, however, on when you can shower, exercise vigorously, or wear hats after the procedure.
Sutures are removed within two weeks of the procedure, and patients may come back in to have their ear lobes re-pierced six weeks after the surgery is completed, or as soon as the scars are considered by the doctor to be soft.
While scars are generally a given with almost any type of surgery, the scars received from ear lobe hole repair surgery in Orlando are so small and inconspicuous that they won't detract from your ears or their appearance.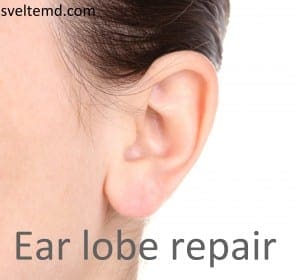 Should You Consider Earlobe Hole Repair?
If you're feeling self-conscious about your torn, stretched, or ripped earlobes, or they are even causing you physical discomfort, don't hesitate to call our experts for help. In one short procedure, your earlobes can be restored to their former beauty, and you can regain the confidence you previously had with your appearance.
Don't wait any longer to get that confidence back! Call today to make an appointment with us at Florida Vein Care and Cosmetic Center. We will have your ear back to its former shape in no time at all! Fill out the patient form online to get the procedure rolling even faster!
Ear Lobe Surgery Recovery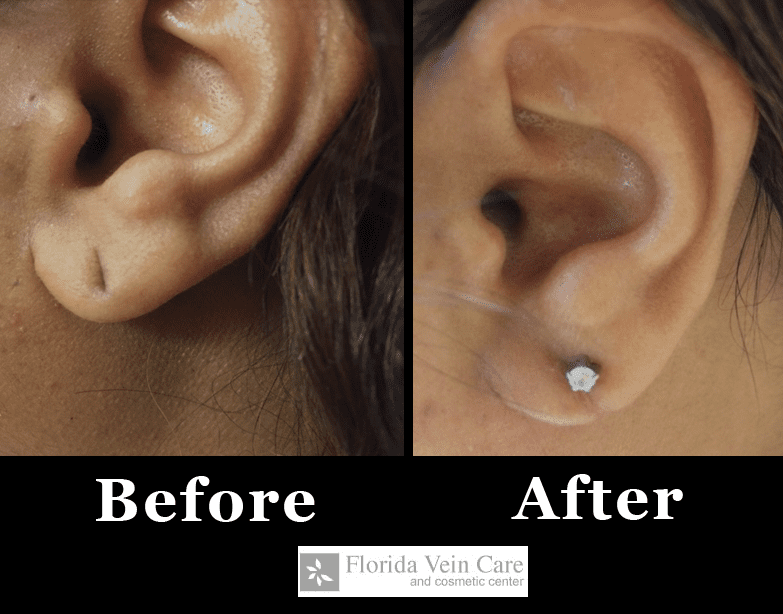 While you are recovering from your earlobe surgery, you may experience a warm sensation with mild discomfort. Usually, patients report that they this goes away quickly and that the healing process is not long. Most say they don't need any OTC pain medications.
How do I find out more?
Contact us to receive your personal physician consultation with Dr. Bragg or if you need more information. Call us to learn more about this simple and affordable procedure. (407)805-8989.During the procedure, local anesthesia is used. During the procedure, local anesthesia is used.